Healing Wisdom From the Dolphins and Whales
A Blue Dolphin Handbook for Peace TM
by Kathryn B Jensen

***

10 Inspiring Transmissions and 10 Recorded Healing Activations from the Dolphins and Whales Who Are Here to Assist You in Your Evolution
***


This Can Be Read on All your Devices With a Kindle App


Kindle eBook $2.99 
or $0.00 With Kindle Unlimited Subscription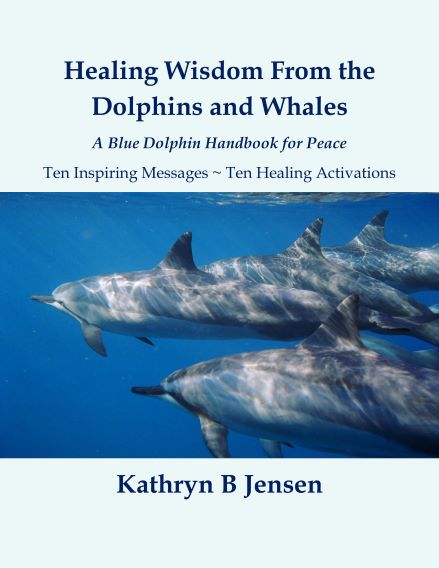 ---
 Healing Wisdom From the Dolphins and Whales
A Blue Dolphin Handbook for Peace TM
Life Changing, Healing Support Directly from Avatar
Dolphins and Whales! 
***
This is a gift to all passionate spiritual seekers. You can sample the transformational healing energy of the dolphins and whales by reading blog posts:
Living a Compassionate Life
and by reading
  Ashram of the Sea! 

Healing Wisdom From the Dolphins and Whales supplements your experience by serving you with a deeper connection and more in-depth healing from the avatars of the Ashram of the sea.
**


This handbook takes you very deeply into the heart-minds of cetacean avatars who are here to help you evolve into compassionate, heart-centered, loving, kind people, who know and live your purpose.
***
***
 * For those of you who have read Ashram of the Sea, received and translated by Kathryn Jensen  or have the book in your hands, page references are given before each of the 10 activations in this handbook. Reading the pages in Ashram of the Sea will deepen your understanding of the cetaceans and their part in activating your hearts with the Twenty Rays of Christ Consciousness. The frequencies of the rays are held in the Essences for the Home Temple.
 *If you're meeting these cetacean avatars for the first time, as you read the transmissions and experience the activations in this book, fill up with their presence. Invite them into your hearts. The dolphins and whales intend to hold you within their hearts as you read and experience this heart-centered guide to loving yourself as you love another.
 *You can create your personal experience with these materials by reading the transmission and guiding yourself through the five activations.
 *You are encouraged to enjoy this experience with a group and create your own Cetacean Healing Circle. Group energy amplifies the cause and effect in a very special way.
 Blessings,
Kathryn Jensen
***
The Contents of Healing Wisdom From the Dolphins and Whales Include:
Blega, a Humpback Whale, Speaks on Being Courageous as you Discover and Live Your Purpose
Dege, A Harbor Porpoise Speaks on the Ray of

Christ Consciousness Called Vivation
Puja, A Bottlenose Dolphin, Speaks on the Ray of Service
Hawaii Spinner Dolphin Savina Speaks on Claiming Our Personal Power
Heso, A Pygmy Right Whale, Speaks on the Ray of Change
Butu, a Long Finned Pilot Whale, Speaks on the Ray of Receiving and Puja, a Bottlenose Dolphin Speaks on the Ray of Receiving 
Soga's Activation With the Ray of Christ Consciousness Called Giving
Savina, a Hawaii Spinner Dolphin, Speaks on the Ray of Polarity
~~~~
Purchase Healing Wisdom From the
       Dolphins and Whales
This inspiring book is available as a Kindle eBook for $2.99 or $0.00 to Kindle Unlimited subscribers
With a Kindle App the Book can be read on all your devices!
Click Below:


---
Privacy Policy For Dolphin Energy Healing
After Exploring this Page - Healing Wisdom From the Dolphins and Whales - Return to the Home Page to Learn More about the Products, Books and Services Offered