Living a Compassionate Life 
April-July 2016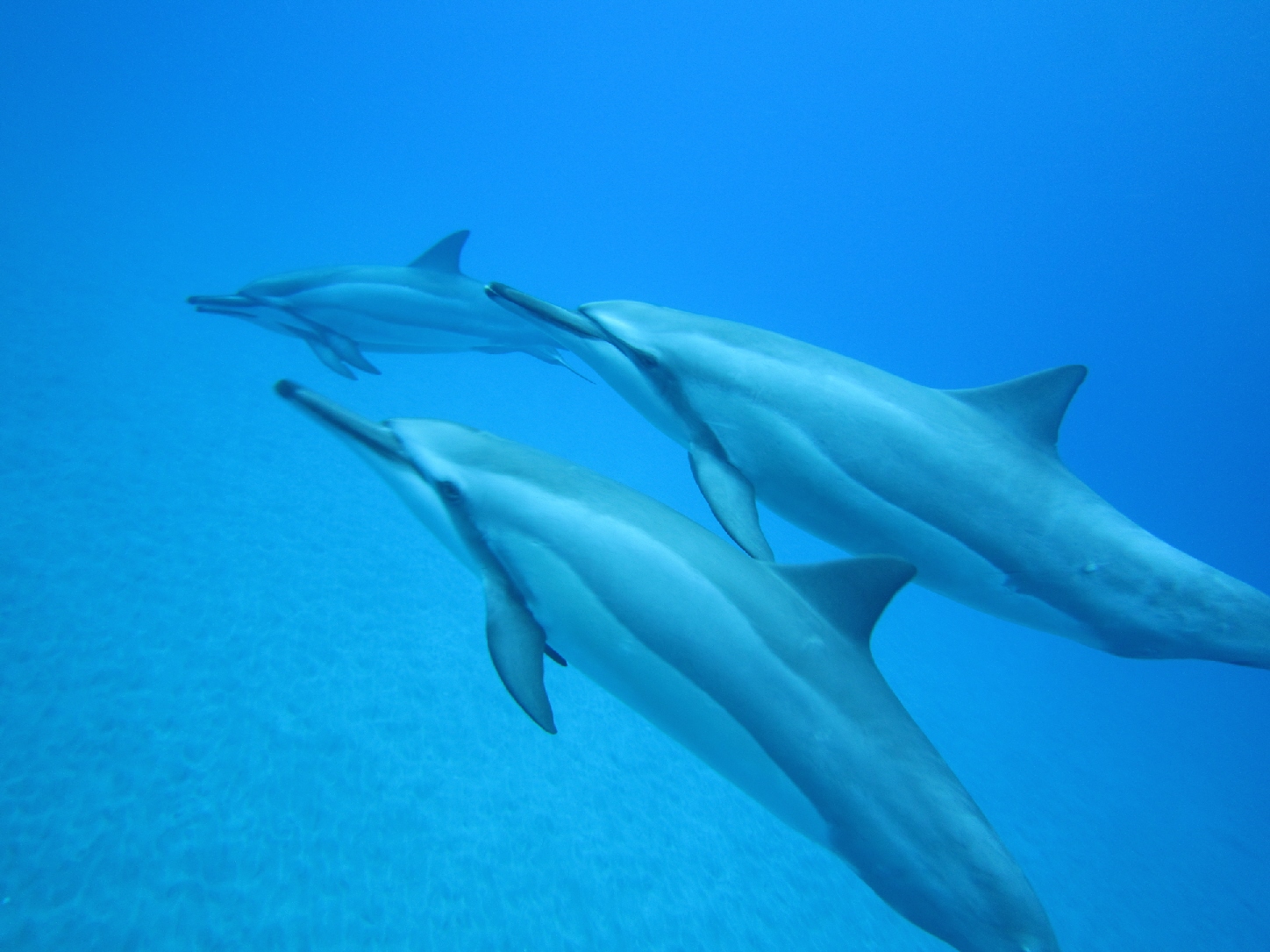 My mother Carol is over 90 years old and she's slowly failing. The other day I had a conversation with my sister Eliza about where we would spread her ashes upon her passing.
Among Carol's most cherished childhood memories are fond recollections of summer vacations spent at the Jersey shore. She was asked by Eliza if she would like her ashes to be spread in the the sand close to the former location of her family cabin that was once tucked away in the large dunes. Carol's response was a heartfelt yes. 
After that conversations I remembered a story I wrote in 2009 about an astonishing experience my friend Mike had spreading the ashes of his beloved cat Chako. The cat's ashes were scattered in the light filled, calm coastal waters of the southwest coast of The Big Island of Hawaii. Spinner dolphins participated in the ceremony.
The story shares the essence of our compassionate, heart awakened dolphin friends and their desire to serve human beings in a manner that truly awakens us to the concept of what it means to be compassionate.
In honor of Carol, whose life has been and still is about deeply and consistently loving others, I'm re-publishing the story. Carol and our dolphin friends embody the essence of loving-kindness. 
Blessings,
Kathryn Jensen
∞
Chako's Funeral
A Love Story from the Big Island of Hawaii
by Kathryn Jensen
Chaco the cat loved life.  This impressive cat's mission was to remind his friend Mike of the great importance of giving him everything he asked for…affection, great food, and a warm spot on Mike's bed. Chaco was well loved.

But alas Chaco got very sick and Mike decided the most compassionate thing to do for his dear friend was to take him to the vet to be put to sleep.  Mike stopped by to share the sad news.  All present joined in saying a prayer.  
Today a miracle occurred.  Mike finally remembered to take Chaco's ashes to his favorite beach,  Hookena. He secured the remains in a tightly knotted plastic bag.                                                                                        

The warmth of the sun was delightful and the crystal clear, aqua blue sea was calm as a pod of sleepy dolphins glided slowly in the tranquil waters of the bay.
Mike's most sacred moments in life have been in the presence of dolphins and his intention was to spread Chaco's ashes in the ocean at a time when the dolphins could join Mike in celebrating the life of his devoted friend.  He secured the small bag in his bathing suit pocket along with several leaves….dolphin gifts.  
Before dolphins deepen into mid-day rest, those in the mood for play, strike up "the leaf game" with leaves gifted to them and deposited in their waters by their human playmates. The leaves are tossed back and forth between these silly, playful dolphins and their human friends. They delight in showing off their exceptional talent for flinging the brilliant red-yellow leaves from their noses to their flukes to their tails.
 So Mike, with great anticipation, began to swim slowly out to greet his cetacean friends.  But only within a few feet of shore he noticed Chaco's remains were no longer in his pocket. They were nowhere to be found.  With a heavy heart Mike joined the dolphins in the middle of the bay for an early morning swim.
 Mike swam back to shore.  He removed his swim gear, walked onto the hot sand and shared his depression about the loss of the ashes with others.  His friend Wende listened sympathetically to the story of the missing ashes as she readied herself for swimming.
 Wende and Mike are deeply connected friends who've shared delightful, synchronistic breakthroughs in consciousness during their swims with dolphins.  Wende knows about loss.  She's spread the ashes of four loved ones over the past few years.
 As Wende joined the dolphins in the middle of the bay was startled to find a plastic bag floating in front of her… Chaco's ashes!!   How did this elusive bag float so far from shore?!!  She tucked the miraculous find into her wet suit and proceeded to enjoy her morning swim, as the dolphins served her and others with a sweet reminder that "love is the only answer."
 After an hour or so Wende swam to shore with the intention that Mike would still be relaxing on the beach.  He was!  Mike, of course, was astonished and relieved to see a familiar bag with gray contents in Wendy's hand.  Tears of amazement and relief were shared by Wendy, Mike and others who witnessed the incredible re-appearance of Chaco's ashes.
 Mike prepared for another swim, this time, with what was left of Chaco tightly held in his hand.  Before he entered the water he noticed the dolphins swimming towards shore.  As Mike kicked slowly through the gentle waters the dolphins surrounded him with the obvious intent of holding their friend in a circle of golden heart centered compassion.  Perhaps they knew Mike was saying farewell to one of the best friends he ever had.
The dolphins, in unison, blew a wall of bubbles extending from the surface of the sea to the sandy bottom.  Mike released Chaco's ashes and they floated in the vortex created by the delicate, effervescent net that shimmered with fluctuating rainbow hues, resembling flickering lights of the aurora borealis.
  The ceremony ended and Mike flowed back to shore on a wave of Grace.  The dolphins flowed with him gifting him with their presence and a very special bright red leaf.
~~~~~~~~~~~~~~
 I arrived at Hookena for a late mid-morning swim and was greeted by Mike and our friend Ellen, a person close to Mike's heart who, that very day, was flying home to Holland. Ellen was present when Chaco was put to sleep.  She loved and supported Mike through that sorrowful time.
Mike's eyes were wide open with amazement as he shared this story.  I asked him to write it down but he insisted that he was the story teller and I was the designated scribe.  Later on I heard about this extraordinary farewell to Chaco from Wende's perspective.
This story "Chaco 's Funeral" is filled with Wende's and Mike's experiences, descriptions and impressions.  However, as the tale of this remarkable ceremony flowed through my filter and onto my computer, the dolphins had their say;  hence the subtle but powerful love lessons from our dolphin friends.
 The dolphins remind us that gifts of love create the magic in our world and our connection to the divine. They're here to model our potential and do so in profound ways.  As the dolphins open our hearts, we remember we're here to give and receive love as we become the compassion we so deeply desire to witness in our world.
  Mike, Ellen, Wende and I ask that you share this story with those you love.
Copyright
Kathryn Jensen 2016 
∞
Enjoy the gentle transmission published below that I received from two Hawaii spinner dolphins who call themselves Ho and Ariana. For various reasons I've only swam with my spinner friends a few times over the past few months so this 'dolphin deprivation' magnified my delight in this encounter with these two deeply loving, heart centered dolphins.
When I met Ho and Ariana they were as motionless as dolphins can possibly be as they hovered beneath me. I felt their heart centers profound emanation of love. We bathed one another  in the light aqua blue ray of Christ Consciousness ray called Prayer. 
∞
Here on the Southwest coast of The Big Island of Hawaii one bay was closed all winter due to an outbreak of mosquito borne dengue fever. I didn't swim at another bay because entering and exiting the water was too risky for my husband whose been recovering from TWO broken arms. The bay where I swam daily is a snorkeling haven. I bonded with the reef and learned a great deal about the exotic, abundant marine life that thrives in that complex ecosystem.
However, for most of the winter our Hawaii spinner friends were absent from my 'swimmin hole' as well as the other local bays. They were present instead, in great numbers, on our northwest coast.  Those of us who explored our coastal waters this winter observed the spinners enjoying the companionship of their great friends, the humpback whales who migrate here during the winter months. Perhaps at some point in the future those two cetacean species will share the mysteries of their magical bond. 
But for now I invite you to merge with Ho and Arriana and their loving message.
Blessings
Kathryn Jensen
∞
A Message from Hawaii Spinner Dolphins
Ho and Ariana
Received and Translated by Kathryn Jensen
The souls of so many of you have listened to those promptings from the Golden Ground (Earth) encouraging you to become the love you are that my brother Ho and I, Ariana, decided to love you through some troublesome problems you may be experiencing.
Today we loved our transmitter of this message through her troubles with aches and pains accrued from problematic collisions with rocks and various other objects (my kayak). She's very stable but she could use a good massage.  Her heart is so full of love for us! She beamed love to us from her whole forcefield and we decided to love her back. We stayed beneath her and she felt the impulse to pray with us. She loved our stable silence. She felt the presence of our Gods and her Gods merging and listening to our heart beats.
Our Gods are your Gods. We all share the same Gods. I call all those who love and love and love Gods.
Our babies learn about love from those people who love them by spending time with them in our shallow bays where we come to be quiet.  Our babies receive healings from these people. Our Gods rejoice when our babies spend time with human healers.
So you see, I'm a God. You're a God. We give one another healing and we go to our homes and communicate about the love we received from one another.
Baby dolphins become sensitive to people's delightful comments that are made as they help themselves to the delicate spiritual essence of our babies.
As you become more sensitive to mysterious, invisible, beloved friends of yours whom you call angels, you question the problems you've created for yourselves. I have a proposal to make to those of you reading my message.  Why don't we form a partnership? I propose we all bless anybody who speaks to us or about us with all of our love.

Prayer is a frequency of Christ Consciousness that dolphins saturate their babies with when they are first born. Prayer is represented by a color and a geometry. The color is very pale aqua blue and the geometric representation is the octagon.  Prayer is given to those who haven't quite figured out that they've got healers surrounding them who can advise them concerning what they need to sort through and examine in order to resolve potential problems.
Newborn baby dolphins and whales, for example, don't know what to do with themselves when they're first born. As they are saturated with Prayer they greet their guardian angels and spend time with them. They are given advice on what it means to be alive.
I invite you to join Ho and me in this healing process:
 Bathe yourself in Prayer. Surround yourself in light aqua blue. Help your guardian angels speak to you by asking them for assistance.

·Become conscious of Ho and Ariana. We are adult, Hawaii spinner dolphins. We'll come to you in the vibration of Prayer. You'll sense our presence in your own way.

Be silent. Breathe Prayer in through your heart and out through your brow chakra. You may observe Ho and me lifting the vibration of your brow. You may feel us speaking to you as we vibrate your throat chakra. You may deeply know there is something very beautiful co-creating healing with the God you happen to be and the Gods Ho and I happen to be.
The more we become one, the more we love one another. The more we love one another, the more we heal one another. The more we heal one another, the more we bless one another with just what we need to counter the difficulties we deal with in our daily lives.
Ho and I, Ariana, are very happy to meet you. We greet you as fellow healers who have the personal power to create a paradigm shift that transforms our planet into a delightful, love-based culture.
A hui hou! ( Till we meet again in Hawaiian)
Ariana and Ho
Copyright
Kathryn Jensen 2016