Earth Now
Living A Compassionate Life
November 2018
***
Thanksgiving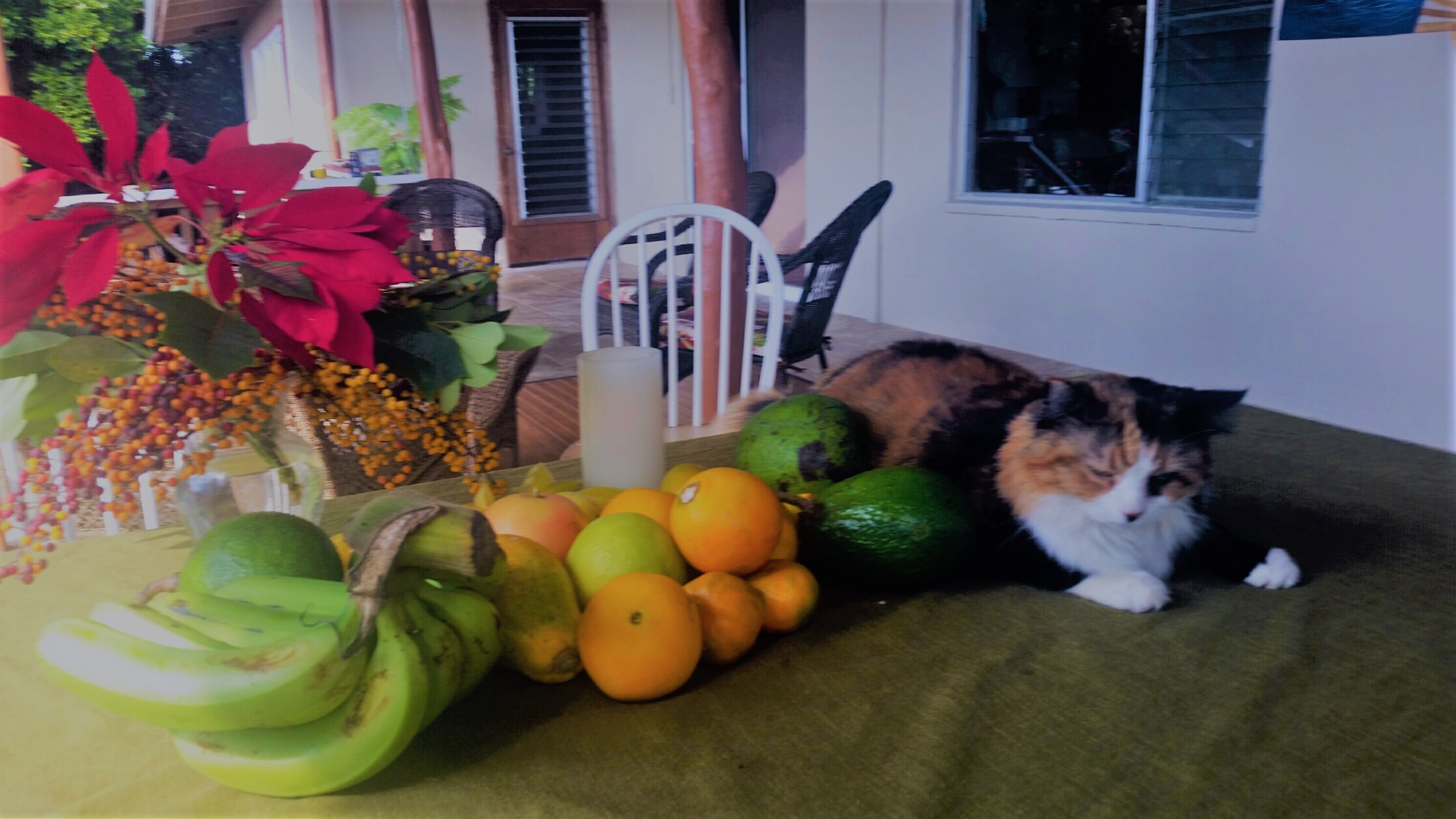 I'm Grateful for Hawaii's Abundance,  the Dolphins and Whales, My Kitty Named Kaia, Friends, Family and All of You!
Be inspired by this loving message from the masters. The message is basic, yet profound and relevant to everyone everywhere.
Blessings,
Kathryn Jensen
****
Thanksgiving
by Ascended Masters Buddha Maitreya and Jesus received and translated by Kathryn Jensen
November 19th, 2018
***
The celebration of Thanksgiving in the United States results in the creation of a field of love that's generated by those who gather  for their holiday celebrations. The purpose of these gatherings is, ultimately, to express gratitude for all of life's grace filled moments, and all of the gifts of the harvest provided by the Gaia Force at this time of year. Loving friends and relatives gather and delight in one another's company and they pour their hearts and souls into being of service to one another through delicious contributions to the feast.
Ascended Masters Buddha Maitreya and Jesus appreciate this holiday and the consciousness of love expressed, by deeply sensitive souls, who participate in this celebration of the divine consciousness of abundance.  In spite of the fact that this holiday is celebrated only in the United States, on Thanksgiving, the life force of the entire planet produces a complex web of healing frequencies, that merge with every cell of every living organism. The Golden Ground (Earth) glows with a brilliant heart center frequency of the lavender ray of Christ Consciousness called Life-Force. Those of you familiar with Kathryn Jensen's body of consciousness may have previously activated your body-mind-spirits with this ray of love.
We invite you to amplify your own Life- Force light lavender frequency with the following activation:
Activation
 The Symbol for Life-Force is a
Light Lavender Cross


Sit quietly. Breathe deeply.

  Absorb the vibrancy of the light lavender cross that symbolizes Life-Force.
·         If you have the essence of Life-Force apply a drop to your heart.
·         Hold one hand on your heart and intend that the light lavender frequency of Life-Force flows from your ninth chakra through your hand on your heart. The ninth chakra is called the Soul Star and is located 14 inches to seven feet about your crown.  Imagine and intend that a wide, light lavender flow of Life-Force is flowing from your Soul star, through your hand, into your heart.
·         Intend that this light violet frequency of love-light is penetrating every cell of your physical body, your emotional body, your mental body and spiritual bodies. Intend that this light lavender ray is activating the seven major chakras.
·         Notice! We suggest you journal what you notice.
Beloveds, your amplification of your own matrix impacts the Gaia Force magnificently.  Trust that this is so.
***
Whether you are attending a Thanksgiving celebration or not, we encourage you serve others with this love light with the following process:
·         With intention,  re-activate yourself with Life Force. This can be done quickly, once you've thoroughly experienced the more in-depth activation described above.
·         Next, send Life Force from your heart to the hearts anybody you encounter. Imagine and intend a flow of Life- Force flows from your heart to the heart and energy matrices of those you encounter.
·         If you are attending a celebration, love those you are in fellowship with, by projecting this frequency into the matrix of each individual. Bathe the room or the entire space in this frequency.
***
Beloveds, there's something you need to know about your vigilant Ascend Masters, who hold you all in a womb of protection, that we generate from our realm to yours. Our commitment to you is unwavering but we rely on partnering with Life-Force workers, like those of you who read this blog. 
Yes we call you Life-Force workers because the more you light up the lives of others with all of your love, the more you amplify the field of Life-Force that surrounds Earth, interpenetrates her grid, her forth chakra and all living things.
Life-Force is a complex frequency of love, housed in the heart and generated by the heart.  The complex web of life on Earth depends of Life-Force for its very existence.
So thank you for partnering with us beloveds. We treasure your assistance in holding communion with the Life-Force of Earth.
The Golden Ground puts each one of you into her realm of protection and co-creates healing the hearts of beleaguered ones, with you as her collaborators.
You are critical beloveds, to reinforcing the spectacular rise in communion with the God Presence now taking place on Gaia's Golden Ground. Yes, in spite of heart breaking natural disasters, wars, pestilences and political and corporate corruption, "the times they are a changing." 
God is present on Earth with more Life-Force than ever before. Never, in Earth's ancient past, has there been such a universal shift in consciousness towards communion with the Golden Ground's ultimate purpose:  Her purpose beloveds, is to give all her residents an extraordinary infusion and foundation of what it means to be compassionate.
Look around you beloveds. You'll see what we mean.
We love you. We love you. We love you.
Yours in service,
Ascended Masters Buddha Maitreya and Jesus
Copyright 2018 Kathryn Jensen