Blue Dolphin Essences are  Powerful Healing Tools 
for Animals
I've learned a great deal from gifted lightworkers and healers who have, through the years, used the Blue Dolphin Essences and the Essences for the Home Temple in ways that are unique, creative and effective.
I received this letter from my friend JamesSalvia:
http://www.thewholebody.net. 
James is a remarkable animal communicator and healer. 
He uses the essences with human beings and animals in extraordinarily creative, powerful ways. I've learned a great deal from James.
***
Dear Kathy,
I have been using your Blue Dolphin essences as part of my healing practice for both my animal and people clients for some time. I find them to be a powerful  healing tool.
I start the sessions by going into the silence and connecting with the inner being of my client this is the same for both animal and humans. I find that I will get pictures words and information and relay this back to the animals people or the person this starts a dialog that allows both side time and the client to explore what is going on where the blocks may be and we can go deep into the space that needed healing.
Once the information gathering is completed I will use muscle testing to find what need to be placed into a "Healing Grid." This is my term meaning, the Grid is made up of different healing objects such as your Blue Dolphin Essences and other essences along with Crystals. 
I then I take a picture of the grid and email it tothe client I do this for two reasons. Healing work I feel is done for the collective so what I am working for myself or for others is to be shared energetically so by emailing this grid I use the Unity of the World Wide Web and the speed of technology I am able to accomplish both.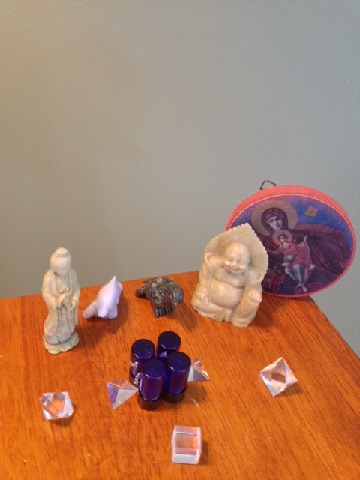 The picture is then received by the client and allows for a tangible object for reflection.
The healing energies of your Blue Dolphin Essences to help channel Source energy to create a supportive healing environment on all levels
  I am also sending you a picture of a Healing Grid I made for someone yesterday.
Peace and Happiness
James  
Read this Boston Globe article  about James and his work in healing a horse. The Blue Dolphin Essences were one of the healing tools he used to help this animanl.